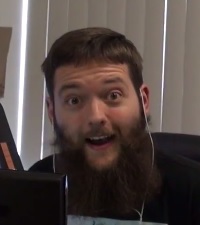 Not to be confused with Intern Joe
Joseph "Joe" Lawson '' is a former Creature who worked mainly as an artist. He was sometimes called by the moniker Artist Joe, due to his occupation as an artist.
Role with the Creatures
His original main video appearances are on episodes of The HUB, as well as in one of Dan's streams. He is a graphic designer, and much like his nickname suggests, is an artist. He created the web-comic Creature Crumbs on the Creature Hub website, but it hasn't had a new comic since June 3, 2015 and it's unknown if it will be continued. He now has his own series on TheCreatureHub called "The Joe of Painting". He is currently one of four personalities featured in gaming content on the channel along with Jordan, Dan, and Spencer, as well as one of six employees in the company total.
Trivia
He is a long time friend of Dan, and Joe helped him get into what he does for a living now. Dan also mentioned he went to high school with Joe, graduating in 2008.
He has designed the new Creature Talk logo as well as various shirt designs.
He used to have a very large beard, as Dan who is a beard aficionado has said it was "much bigger than his own".

Artist Joe's beard was shaved in the "Getting Shaved" hub video.
His majestic beard had taken him 2 years to grow.

He lived with Intern Joe in an apartment, and he shared an office with Dan.
Gallery
Links
References
Community content is available under
CC-BY-SA
unless otherwise noted.