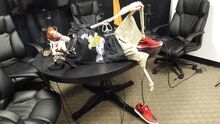 Baby Babu is a running gag in the Creature office. Originally a gag gift from Spencer to Intern Joe, Baby Babu has become a well-known character in the office, appearing in episodes of The HUB and in pictures on the social media pages.
History
During the Secret Santa present openings, Spencer got Intern Joe a gift: a baby orangutan doll named Baby Babu. Everyone in the office at the time was initially disgusted by it and its smell; in the video Barf Spray it was shown that Kevin kicked Baby Babu's head off, while Aleks threw the body away and Dan threw the head out the window. However, Intern Joe took a liking to it and called it "his baby". Since then, he has included it in many pictures and videos, both on the main channel and on the Facebook and Twitter pages. Since the destruction of his original body, he has taken on many forms. These include a skeleton body, Gumby, and a Boy Doll.
Wedding/Death
At the RTX 2015 panel, Babu was wed to Mollie, Babu's long-time girlfriend. After the wedding, Spencer and Intern Joe left Babu and Mollie in a back room, where they were brutally murdered by two unknown assaassins, and their lifeless bodies were left on the floor. Later, James went to the back room and saw the aftermath of the murders, and was mortified. However, he heard something crying and realized that there was a baby that survived the killing, and immediately took it under his wing. During the 2015 RTX panel, James threw the child into the crowd, but according to James himself during the 2015 Secret Santa, said that the baby, named Jala, was sent from the fan who caught him and sent him back to the office, growing up very quickly.
Gallery
Community content is available under
CC-BY-SA
unless otherwise noted.