Nova's Channel Classics is a mini-series created by Nova, where he shows off his most MLG or funniest moments on his channel. Nova started the Channel Classics for his more recent subscribers, so they didn't miss out on any memorable moments.
History
James wanted a way to show the highlights of his channel to new and potential subscribers. He decided on uploading classic moments in his videos to a YouTube playlist. Hence the name "Channel Classics".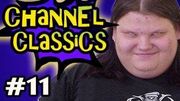 Episodes
Spin-Offs
Classic Collections
On May 7, 2012, Nova released a video with the series title "Classic Collection Montage". It was a compilation of his funniest grunts while playing Super Meat Boy. Many fans have speculated that this is a spin-off of his Channel Classics.
Animated Classics
See: Animated Classics
The Animated Classics started when ShazamBlast (the Animator) uploaded the video "Nova's Horse Party" (based on Ep.43 of Ex-comm) on his channel. Fans liked this animation and told Nova. Nova later put this animation on his channel and called it "HORSE ORGY!". Since then Shazam has been doing more animations that Nova uploads.
Trivia
It seems like Nova doesn't decide the moments himself, but his fans do.
Nova selects a random image to use in the thumbnail. The image bears no relation to the actual video but it's used for comedic effect. Usually, because of the grim or ominous faces on the aforementioned pictures, or celebrities such as

Xzibit.
The quickest "From video to Channel Classic" video was his first encounter with an enderman, which took mere hours. The channel classic can be found here.
The series was originally named "Channel Highlights".
Kootra also made a channel classic series named Kootra's Lowlights where he shows his lesser MLG side.
The last Channel Classic was on February 17, 2013 and it's unknown if Nova will continue them.