"Copyright" (usually exclaimed as Copyright!), is one of the Creatures' most well-known running gags. It is said by almost every Creature, but mostly Nova.
Meaning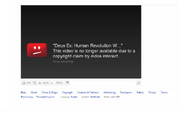 Due to YouTube policies, certain songs, sayings, or titles cannot be shown or said on a video. (Example: a Creature starts singing "U Can't Touch This" by MC Hammer, and another exclaims, "Copyright!"
To avoid copyright, the Creatures later used Brown instead of certain lyrics when singing. An example; instead of a Creature singing "U Can't Touch This" they would sing "U Can't Brown This" or in the tune of the song "U Brown Brown Brown" or "Brown Brown Brown Brown."
Origins
The "Copyright" joke started after Nova had some of his videos removed for copyright, which he joked about once in Creature Talk. The brown replacement part was created by Sly during a Minecraft Adventure Map.
Community content is available under
CC-BY-SA
unless otherwise noted.