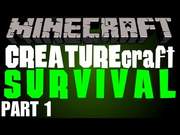 CreatureCraft (also known as Vanilla Adventures, MLG Legit Minecraft Adventure, or Pure Legit Minecraft on other Creature channels) was a series created by Kootra, Gassy Mexican, Danz, Chilled and Ze on Minecraft.
History
The fans of the Creatures wanted a video where all the Creatures play a game in Minecraft multiplayer as a group. However, only Kootra, Gassy, Danz, Chilled, and Ze were available at the time (though this may be untrue, see The Ex-Communicated Series). Surprisingly, it was less popular than The Ex-Communicated.
Trivia
This series spawned The Ex-Communicated Series which was the response of Nova, Seamus and Sly being left out of CreatureCraft.
The Creatures all made their own names instead of one. Although Gassy didn't due to him being on a laptop and not being able to record.
Ironically, almost half of the Creatures involved in the series are no longer members of the group.
Also see