Creature Coby is the second official mascot and friend of Creature Carl. He was announced during the 24 Hour Creature Livestream. He is a marsupial with features similar to that of a badger and a mole.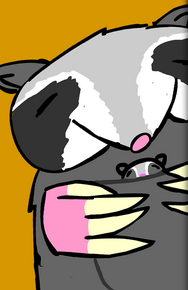 what the hell is creature koby??
Trivia
It appears that there is a smaller Coby inside Coby, called Cody
He is a male with a pouch, like a seahorse
Nova thought of the idea for Coby
He is sexy.
A total fucken badass.
He is the badest mofo in the entire universe and can't be killed unless he is bitch slapped on the ass
He drinks Gravy for dinner
One day chuck norris found coby climbing a tree chuck norris died in fear.
Coby is blind from too much sexyness
Community content is available under
CC-BY-SA
unless otherwise noted.