Creature Speak is a server on the system Teamspeak, where Critters and Creatures talk together on different channels, such as gaming, music and other stuff.
History
Alot of relationships have been created in this server such as:
Buffy and Chilled
TomAnex and Sawtoothkitty
kittkatmatt and Sawtoothkitty
Brien and Buffy
Brien and His Mum
Ham and A Sweaty Lemon
Brien and James have buttsex every night
But some Bad relationships have been made:
A Sweaty Lemon and Wormy3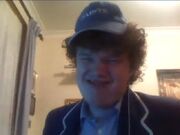 Dsm1891 and SSoHPKC
There is one MLG gangsta in the Server he is james (AussieClutch) as you see in the picture.He does livestreams which is sexy (boner) Wouldnt you want some of that sweet sweet tomato juice
IP & Password
IP:8.6.2.2:9219
Password:thebrowncat69
Trivia
Sp00n has been known to abused his mod power.
AussieClutch is twins with Dsm 1891
Community content is available under
CC-BY-SA
unless otherwise noted.