D4nny is an upcoming unsigned talent in Brit-Asian hip hop based in Birmingham, UK. He is known for his song "Goodbye". It is well known that the Creatures (mainly Kootra, Danz, and Immortal) are "big fans" of him and his music. Kootra is known to plug D4nny and play some of his music in videos. He has also made a collab with the Creatures in Sarcasm with Seamus.
History
D4nny started YouTube in 2008 and uploaded his first music video in 2011. He uploaded "Goodbye" in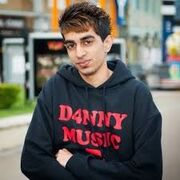 2013, which currently has 4,000,000+ views and is his most popular song to date. Later on that year, he made a second channel for vlogs, interviews and live performances. 
The first reference by the Creatures was when Koots played "Goodbye" during a Creature Hub video. This later turned into more videos with the song in it.
On the first Creature panel, a fan requested that the Creatures sang "Goodbye". Kootra and Immortal did this at the end.
On March 2014, D4nny was accepted by VEVO.
The Creatures challenged D4nny to the Ice Bucket Challenge. D4nny accepted and followed up the challenge.
Danz has said that he has talked to D4nny and has bought all his songs.
In 2015, Kootra, Intern Joe and Spencer met D4nny on there trip to London.
In November 2015, The Creatures did a collaboration with D4nny called Hello,and as of January 22, 2016, it currently has 200,000+ views.
Links
Community content is available under
CC-BY-SA
unless otherwise noted.