This article is about the series. For the commentator, see Danz Newz.
Danz Newz Reviewz is a series started by Danz in which he reviews different movies.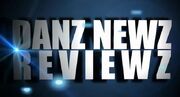 History
On May 9, 2012, Danz released his first review which was for the movie Tinker Tailor Soldier Spy. He stated in the video that DVD/Blu-Ray release reviews of movies will appear on his channel, and that theatrical release reviews will appear on the Creature Hub channel. On September 17 during BatDanz week 2014 he brought Danz Newz Reviewz back and has said that he plans to continue doing them.
Reviews
Danz originally rated his movies out of 4 stars, but changed it to out of 10 due to confusion.
This is a list of reviews that Danz has done on theatrical releases:
The Dark Knight Rises - 9/10
The Avengers - 9.5/10
Total Recall - 8/10
The Amazing Spider-Man - 7.5/10
This is a list of reviews that Danz has done on home media releases:
Note: Ratings stopped at Son of Batman
Tinker Tailor Soldier Spy - 2/4
The Adventures of TinTin - 3/4
Immortals - 2.5/4
Gangsta Rap: The Glockumentary - 0.5/4
Son of Batman 
Batman: Assault on Arkham
Trivia
If Danz crushes a DVD/Blu-Ray box during home media release reviews, the movie automatically receives 0.5 stars.
Danz originally did an informal set of reviews on his channel where he reviewed movies as well as video games.
He has also done short reviews of movies in his Blu-Ray/DVD collection and the Batman film franchise.
Due to the 50th anniversary of the James Bond franchise, Danz attempted to do reviews for all 22 released Bond films produced by Eon Productions. However, he only did a review for Dr. No.
He also reviewed games for the channel NextGenWalkthroughs.
Recently, he hasn't done any reviews for unknown reasons.