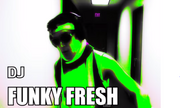 Dj FunkyFresh is one of Immortal's rapper Alter Egos.
The first appearance of Dj Funky Fresh was before he was a part of the Creature in one of his .WMV videos. He is a world famous Dj that has worked with many known artists and bands, including Swedish House Mafia, Lady Gaga, Kanye West, and Nicki Minaj. Dj FunkyFresh knows his music very well, loves to eat pickles, play videogames, is a great beatboxer, and has awesome dance skills. He then had a massive break and inspired many other rappers such as 4L3KS and MCRails. He finally made his return in one of his stream videos.
Community content is available under
CC-BY-SA
unless otherwise noted.