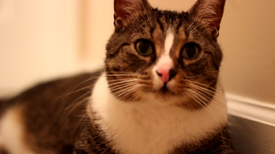 Elton is Danz' cat. He is often called adorable. He is a skittish outdoors cat according to Dan though videos of Elton usually feature him lounging around the house and he is said to sleep in the craziest places. He is named after the singer, Elton John.
History
Elton has been featured on Danz' channel in "Meet Elton" and, more recently, "I miss Elton... :(". A video called "Elton Wakes Up" is on Dan's channel in which Dan has a conversation with a sleepy cat.
When Dan moved to the Creature House in Colorado, Elton was left with Dan's family as he wouldn't have been comfortable with the move.
Community content is available under
CC-BY-SA
unless otherwise noted.