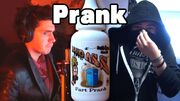 Farty the Fart Spray (Liquid Ass)
 was a running prank between the
Creatures
. It is usually used to prank other Creatures, usually while they are livestreaming or recording videos. In
Danz Misses Koots and Nova
, it is called "Farty, The Fart Spray" and was also named a Creature.
When the Creatures were still in the first Creature House, they were sent a bottle of Liquid Ass from a fan, who called it 'Kootra Juice' due to its horrible stench. Recently, the Barf Spray video was featured on the Liquid Ass website, and more cans of fart spray were sent to the Creatures.
| Video Title | Prankers | Victim |
| --- | --- | --- |
| Nova and Danz Prank Gassy | James and Dan | Max |
| Fart Spray Prank | James, Dan, and Aleks | Dex |
| Pranking Koots 2 | Dan | Jordan |
| Danz Misses Koots and Nova | Dan | James' and Jordan's offices |
| Fart Spray Prank Gone Wrong! | James, Dex, and Spencer | Kevin |
| Spooky Fart Spray - LIVESCREAM Highlight | Dan, Aleks, and Seamus | Jordan |
| Barf Spray | Intern Joe | Jordan, James, Dan, Seamus, Aleks, Kevin, and Spencer |
| DEATHSPRAY | James, Spencer and Intern Joe | Everyone in the office (indirectly) |
Two more different incarnations of fart spray, barf spray and "Tex-Ass", have been seen and used in the office.
In Barf Spray, Joe gave Spencer an extra present, which was revealed to be another can of Liquid Ass.
When Jordan unboxed his second knife during a stream, James recorded himself walking to Jordan's office and spraying inside of it multiple times in frustration.
In the video Deathspray, the concoction that James and Intern Joe created had to be removed from the office due to the extremely foul smell that it gave off. They did not want the smell to make its way through the rest of the office building, and threw it away.
Community content is available under
CC-BY-SA
unless otherwise noted.