First Five is a gameplay series on The Creature Hub YouTube channel.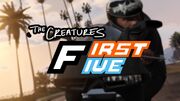 Format
The show details either four or five different Creatures (usually 4) playing for 5 minutes in various games, often new releases. The series featured an intro from Aleks, who would often make humorous or sarcastic remarks, usually about the show's title or format. Now there is no voice intro from Aleks, and the series is now being edited by Dex instead.
History
The series, along with Co-Play, were introduced with the release of GTA V. The series follows four or five different Creatures playing for either the first five minutes or their first five minutes of a game. The series has given rise to some questions, since the theme of being the first five minutes of gameplay for the Creatures was not used in all episodes.
Trivia
It is unknown why the Creatures did an episode with League of Legends, since they have all played it in the past.

However, later episodes would show that it is not always all of the Creatures' first five minutes in the game. (ex: Seamus in Dark Souls 2)

The idea of five Creatures playing the game must have been changed, since the first episode is the only one with five Creatures; the rest have had only 4.
Dex was the first and only non-Creature to appear in First Five, until he joined the group prior to the Valiant Hearts episode.
First Five was one of the new series launched on the Creature Hub in August/Fall of 2013, along with SUPERCAST!, Co-Play, Sarcasm w/ Seamus, Creature Teacher, and TreeTopia.
The series was hosted and edited by Immortal, as he did the voice-over in the intro. He also appears in some episodes playing the game as well.

Since Dex started editing First Five, however, Aleks is not included in the intro.
Episodes
| Game | Creatures involved |
| --- | --- |
| GTA V | Kootra, Ze, Sp00n, Sly, and Immortal |
| League of Legends | Kootra, Sp00n, Nova, and Danz |
| Assassins Creed IV: Black Flag | Kootra, Nova, Danz, and Sly |
| Fifa 14 | Kootra, Danz, SSoH, and Sly |
| The Lego Movie Videogame | Kootra, Nova, Danz, and SSoH |
| Nascar 14 | Kootra, Danz, Sly, and Immortal |
| Dark Souls 2 | Kootra, Danz, SSoH, and Sly |
| Titanfall | Kootra, Danz, SSoH, and Sly |
| Daylight | Kootra, Danz, Sly, and Immortal |
| Day Z | Kootra, Nova, Danz, SSoH, and Sly |
| Wolfenstein: The New Order | Kootra, Nova, Danz, and Immortal |
| Destiny | Nova, Danz, SSoH, and Dexter |
| Valiant Hearts | Kootra, SSoH, Immortal, and Dexter |
| Dota 2 | Kootra, Nova, SSoH, and Immortal |
| Shovel Knight | Kootra, Danz, Immortal, and Dexter |
| Dying Light | Nova, Danz, Immortal, and Kevin |
| Cho Aniki | Kootra, Danz, SSoH, and Kevin |
| Spelunky | Kootra, Nova, Danz, Dexter, and Kevin |
| The Order: 1886 | Kootra, Nova, Immortal, and Dexter |
Links