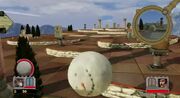 Frosty was the name of Kootra's rock during his playthrough of Rock of Ages with Ze. Kootra switched to Frosty towards the end of episode 3 of his playthrough and used it continuously since. Even though Frosty is just a big snowball with a face, he has won various battles against Ze in during the series.
It is not known how long Kootra will use Frosty against Ze.
Frosty's original name was "Snowman".
The name Frosty most likely comes from "Frosty the Snowman".
Even when he is burning, Frosty is immune to flames so he still stays as a snowball, and doesn't melt.
Community content is available under
CC-BY-SA
unless otherwise noted.