Max "Gassy Mexican" Gonzalez is a former Creature. He is known for his "epic" voice. 
History
Gassy got into making Machinima and gameplay videos because he had always been a gamer and played video games since he was around 5 years old; it made sense to him to begin getting into recording because he enjoyed playing the games and the idea of making movies with them. He started his YouTube channel in June 2006, posting gameplay videos before expanding into Machinima. 
In February 2012  he moved out to The Creature House in Colorado. After a few months of living in the house he moved into an apartment with Renée. He then slowly started to drift away from the Creatures, appearing less and less on Creature Talk and in videos with the group, and not really contributing to The Hub channel. 
Removal from the Creatures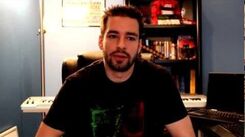 As of November 17, 2012, he was removed from the Creatures due to differences between him, Danz, and Kootra. They discussed it with the other Creatures, and it settled into a vote; in the end it was decided that Max would no longer be a part of the group.
Max's side of the story is in this video
Post Creature
Max continued to play games with verious Creatures, and eventually Kootra, Dan and himself settled their diffrences
In 2020 he was part of the Minecraft Reunion stream on Twitch.
| Year | Title | Role | Notes |
| --- | --- | --- | --- |
| 2012 | Sly's Arrival | Himself | not credited |
| 2012 | Bunny Bust | Horse | |
| 2012 | Meanwhile | Himself | Brefly; not credited |
| 2012 | Goodbye Red Velvet | Himself | Voice from another video |
| 2012 | Copying PSA | Himself | |
| 2012 | Call of Creature: Modern Nerf-War | Himself | |
| 2012 | Meanwhile at YouTube | Various | |
| 2012 | Bunny Bust II | Horse/Dieter | Was only Horse in part one |
Trivia
Gassy was the original voice of Darwin Vanguard in the City 17 Machinima series. However, his tenure there was short lived, as he only voiced the role for Episode Zero.
Ironically, His initials are M.L.G.
He was the last Creature to get a Machinima contract, despite being one of the first Creatures.
Gassy has stated in a tweet that he occasionally browses the Creatures' videos to see what the gang has been up to.
Gallery
Links
Community content is available under
CC-BY-SA
unless otherwise noted.