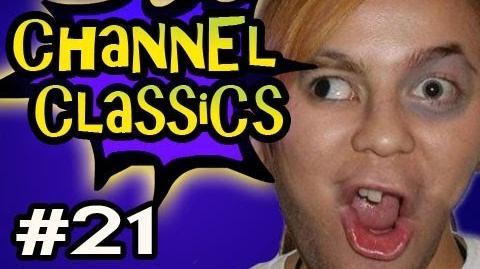 The Gay Tony is an action where in the player jumps off the edge of a cliff or building, crouches, and spins around singing or humming (or, in Kootra's case, yelling) Eric Prydz's "Pjanoo", which was featured prominently in Grand Theft Auto IV: The Ballad of Gay Tony, from which the action is named. Nova and Seamus are the Creatures that do this the most. More often than not, they end up dying.
Origin
[
]
While playing with Seamus on the custom parkour map Minecraft's Edge 2, Nova was trying to "party" with animals stuck in a cage and started singing a part of Pjanoo. When the duo reached a certain jump, Nova states that he will do "the Gay Tony." He then jumps, spins in the air, and completes the jump while humming Eric Prydz's "Pjanoo." Since then, Nova has done Gay Tonys more often and in other games beside Minecraft, including Dead Island and Skyrim.
Trivia
[
]
Kootra performed a self-proclaimed "MLG" Gay Tony during the Tree Fortress Reborn.
The largest Gay Tony in terms of height and people occurred during the Creatures' TreeHouse series. Nova, Seamus, Kootra, Sly, Danz, and Ze jumped off Sly's Stark Tower; everybody died, except for Seamus, who was in creative mode at the time.

Nova & Company Ep.78 - EVERYONE GAY TONYS

Nova used to put up a small clip from GTA IV: The Ballad of Gay Tony playing the song to avoid a copyright strike.
Rachelkip was the first girl to do the Gay Tony; she did it while playing Levi's Nightmare (a Minecraft custom map) with Nova.
Nova usually does the Gay Tony counter-clockwise but have been doing some of them clock-wise as well
Immortal did his first Gay Tony in TreeTopia.
All current Creatures except Dex have performed at least one.