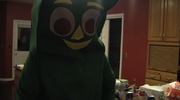 Gumby
is a running gag/character in the
Creature
universe. Gumby is an infamous stop motion character from the show of the same name. In the context of The Creatures, he is often used as a symbol for trolling or generally messing around.
History
Gumby first came onto the scene in one of Nova's rage videos, in which he donned the Gumby costume on face cam to show how super serious he was about Happy Wheels.
The next reference of Gumby was a plug for the Creature Carl Campaign, when he danced for Creature Carl while wearing the costume to the Novastep song, "Broke The Rules". Gumby appeared once again, doing much the same thing, in the Creature's New Year's Resolutions video for 2012 wherein Gumby danced to techno while wearing a tie, but hit a chair during a jump and stayed unconscious and twitching on the floor for the rest of the video.
Following Sly's adventure/exploration into the Creature House, Gumby could be seen 'stalking' Sly while he was talking to Dan, Kootra, Seamus, and Gassy. He could also be seen at the end of the video attracting the camera to the bathroom, where he kept rubbing his crotch in the bathtub.
During the special Creature Talk in The Creature House, Nova put on the costume once more to perform shenanigans, including dancing with Ze's picture taped to his crotch and pretending to kiss Kootra.
In a Creature Hub video following the move to the Creature House, he wore the Gumby costume and burst into Seamus' room while holding a long piece of bread to his crotch. Seamus, going along with the joke, took a bite of it, much to the amusement of the rest of the group watching. Also, doing a milestone from a 24 Hour Livestream, Gumby appeared in "Creature Hub 100th Video Special", dancing for Creature Coby and later with Danz in his Bane costume.
Since visiting the Creature House, a Bunny, Cookie Monster, Barney The Dinosaur, Superman, and other various costumes have joined Gumby in Nova's collection. However, the Cookie Monster was rented from a costume shop, and it is unknown if James still has the Barney costume.
Recently, Gumby was seen at the end of a live action short film, dancing towards the end of the video, and again in an episode of Toy Chest.
Gallery
Community content is available under
CC-BY-SA
unless otherwise noted.