Hank Grimes was an iron golem on Nova and Danz's Minecraft series "Hershel's Land." He was created by Nova, who called him an "abomination creature". He is claimed to be Rick's brother.
It has apparently been twenty years since Rick and Hank have seen each other. Hank tried to escape, wandering off. Nova and Danz managed, however, to trap him in a small cobblestone pen, where only his head was visible. Once, Rick and Shane were talking about Shane sleeping with Lori. Shane claimed that Hank had also slept with her. Rick went to confront Hank, who kept looking away in shame. While Rick forgave him, he did give Hank a punch in the face for it. When he got punched, Hank was moved to the top of the pen, making Rick very nervous. However, he was pushed back into his pen without much problem.
After returning from mining, Rick killed Hank for sleeping with Lori. All that was left of him was a few pieces of iron, and a rose. Shane was briefly upset, especially that he did not get to see it. All Carl had to say about the situation was "Chicken".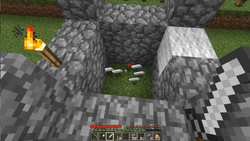 Appearance
Edit
Described by Danz, he has red eyes and "tattoos". He was Rick's little brother with a rare form of "gigantism." Nova also pointed out how tall he was.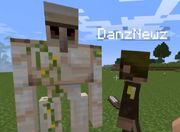 Hank's Residence
Edit
Hank lived in a makeshift cobblestone hut located on Hershel's Land. Only his head could be seen, from a distance.
Community content is available under
CC-BY-SA
unless otherwise noted.