He-Man is another alter ego of Nova who was introduced before the 24-Hour LiveScream, when some of the Creatures went to get some food from Chipotle.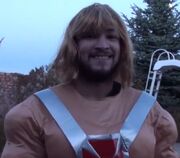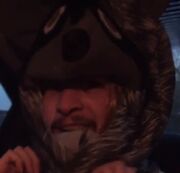 He-Man was first seen in before he embarked on his quest with Raccy the Raccoon, Princess Peach and Danz, He-Man attempted to kill a random cat which had stumbled into his territory.
He doesn't like cats.
He once morphed into some sort of He-Man/Raccoon creature.
He tries to hit on women when ordering Chipotle to get it at a reduced price, or for free.
According to Danz, he cries sometimes when he's a Raccoon. (A reference to the He-Man singing Hey what's going on video)
He demanded numerous times to get his Chipotle for free, but when he was denied, he, Raccoon (Kootra), and Princess Peach (Seamus) stormed out of the restaurant.
His pecs flex themselves.
He has stated that Skeletor wouldn't be as bad as to not give him a discount for his Chipotle.
I'm so hungry!
I want food!
Two dollars?!
I think I can haggle them down.
My pecs are flexing themselves!
They make my muscles strong!
The raccoon has all the money!
I'm going to flex for you.
Wednesday?!
Are you kidding me?!
Someone's getting put in a headlock for this!
Not even Skeletor would do something like this to me!
Ridiculous!
Breaking the law!
Community content is available under
CC-BY-SA
unless otherwise noted.