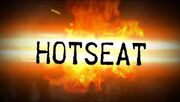 HotSeat is a series on The Creature Hub, which involves a member of the Creatures being challenged to complete a difficult task in a specific game. They must do so under the ridicule of other Creatures, and sometimes, with an added twist to spice things up.
History
The series was originally created due to Dex's strong dislike for horror games. The theme of the show revolved around this idea of testing one's fright, until the series was later altered so that the game in each episode did not have to be horror related, and could be any genre as long as a specific challenge was set in place.
Episodes
​Scoreboard
Trivia
It was stated in episode 120 of Creature Talk that they had done a Five Night's at Freddy's HotSeat, but it ended up not being uploaded.