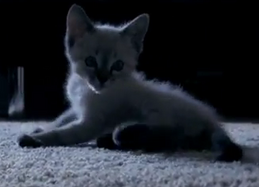 Kitten Shepard (or Shepard) is one of Kootra's cats. He is a lightish grayish-brown kitten and is MLG.
History
Kootra announced that he got another kitten and said he didn't name it yet and held a contest to see what name is the best. Shepard won, Grunt was actually going to be his name but Monica didn't like it (Monica is bad).
Growing up, Shepard learned everything he knew from Kootra's other cat, mentor and close friend Wrex. Wrex and Shepard would consistantly play-fight and chase each other. Shepard was Wrex's best friend up until Wrex's passing in July of 2013
Shepard would go on to impregnate Tali. He is currently the father of Fisher and Moh-Ding. He was neutered shortly after Tali was impregnated. 
Trivia
His name is a reference to Kootra's favorite game series, Mass Effect, Shepard is the main character in the game. Grunt is one of his allies too.
Kootra calls Shepard the "Creature Cat" sometimes, mostly before Kootra named Shepard.
According to Kootra, Shepard got Tali pregnant. The two had kittens Moh-Ding and Fisher, which Jordan gave James and Dan respectively.
Shepard is neutered and will not be having any more kittens.