Kootra Green is a gag made by The Creatures based on fellow Creature Kootra. The gag is that when Kootra, who is known to appear as a driver in many Hub videos, sees a red light, he would ignore it and drive past it. Thus, the definition for it was "When you see a red light, you don't care." It has appeared in many his videos, It was first used in Creature Movie Trips and later in some of Seamus' videos. It was suggested by fans for Sarcasm with Seamus.
The Sarcasm with Seamus Short
Edit
The short showcased Kootra in the drivers seat and Seamus in the passenger's seat. It then showed a traffic light turn red with Kootra exclaiming "Kootra Green!" and accelerating the car, it was followed by a text saying "Seamus O'Doherty: 1988-2014 Cause of Death Kootra Green" and "Kootra survived without a scratch."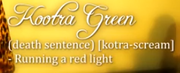 Community content is available under
CC-BY-SA
unless otherwise noted.