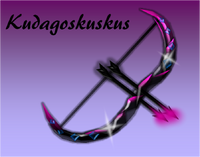 The Kuda Bow, short for Kudagoskuskus Bow, is an extremely rare sacred weapon in The Elder Scrolls V: Skyrim that is found from the loot of Grampy the Mammoth.
The Kuda Bow is a weapon invented by Nova in a special Creature prank call, and is not really in the game. However, this is debatable, as there have been multiple rumors of travelers spotting Grampy the Mammoth, and indeed the Kuda bow, since this time.
The Kudagoskuskus Bow means "Bow of Elders" in ancient Nord. The legendary bow is created when the wood from the Mammoth Elder Tree is digested by Grampy the Mammoth and generally treated bad before it excretes. The bow is said to be the most powerful in the game which dealing a total of 72 damage. There are also rumors of the bow growing stronger with each successful kill, peaking at a total of 105 damage.
The Kuda Bow is described by Gassy Mexican as being a "Hot Pink" sort of color, and jeweled with sapphires, he also claimed that he may have seen a Hippo Face on the same position a bow sight would normally be placed, however this is a common mistake, and is most likely just a confusion with the overall shape of the bow and placement of the sapphire jewels.
References
Edit
Community content is available under
CC-BY-SA
unless otherwise noted.