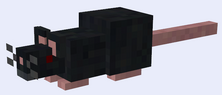 Little Rat Thingy is SlyFoxHound's name for the rats and mice in the Mo' Creatures Minecraft Mod created by Dr. Zhark.
The term is used in all Minecraft series that have or did have the mod installed. Such series include Minecraft Daily, Homiecraft, Road to Hipo, The Ex-Communicated Series, and TreeHouse Reborn. Little Rat Thingies have been known to sometimes work together with other mobs, especially creepers. Little Rat Thingies range from many colors such as grey, black, brown, or white. It is often unclear if the little rat thingies are just the rats or include mice as well. In Season 2 of Ex-Communicated, Sly discovered that he was an X - Man because when he picked up a mouse he was surprised to see that instead of appearing next to his hand, it appeared higher than him on his left side.
Sly often screams it out in surprise because he is busy building, mining, or talking to his homies when it attacks him.
Community content is available under
CC-BY-SA
unless otherwise noted.