Nin9talesXGamer

Name
Elizabeth
Age
25
Subscribers
6,600+
Creature Connections
Danz
History
Liz's first YouTube appearance with the Creatures was with Danz Newz where they played Minecraft. Danz introduced her as a friend, but people quickly suspected they were more than friends. Liz visited the Creature House from her house in California for the holidays. In a Tumblr question, Danz was asked if he was taken, which he replied with a yes. In "Adventures of Liz and Danz Part 19," Liz and Dan confirmed that they were dating. In an update video, Liz and Danz announced that they would be moving into an apartment. Prior to this, however, Liz would have been moving into the Creature House and would have gotten her own room. In 2014 it was said that Liz sent Danz a letter through the Creature PO box before meeting him, and it was also mentioned that she was a fan.
Ongoing Series
Liz and Danz Review
Smite w/ Nin9tales
Let's Play Bioshock 2
Trivia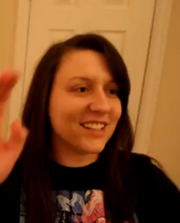 She lived in California before moving to Colorado.
Met Danz through Tumblr.
Is an agnostic.
Catchphrases and Quotes
Community content is available under
CC-BY-SA
unless otherwise noted.