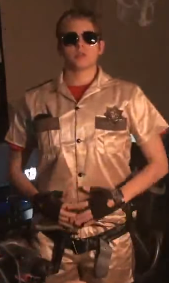 Lt. Dangle is an alter ego of Seamus, who was introduced during the 24-Hour LiveScream.
History
[
]
Lt. Dangle is most notable for his short shorts. Each time Dangle bends over, people may see more than they bargained for.
Trivia
[
]
He enjoys short shorts and bending over.
Sometimes people can see his "package" or "goods" when he bends over. This is a sight not many people expect to see.