Note: This article refers to Season 1 of the series. For information on the second season of the series, see "Super Minecraft Daily".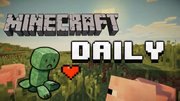 Minecraft Daily 
(or "Minecraft Daily: Season 1") was a series by Ex-Creature 
SlyFoxHound
. Each episode is usually released on 4pm (CDT) / 9pm (GMT). All current Creatures (excluding
Sp00n
) have made at least one appearance/cameo in the series.
Overview
Sly decided to start a Minecraft series where he would create enough content to give his subscribers an episode every day. Many well known YouTubers had been invited to this series. Sly aspired to create a giant town, full of houses from all past, present and future Minecraft Daily guests. The town was officially named "Guam", after a waypoint that Kevin set in Ep. 121. Another goal for Sly was to reach 365 episodes, completing a whole year and finishing the series' first season. This goal was not reached by the end of the year (2013) due to Sly's busy schedule, which prevented him from uploading episodes for long periods of time.
The first episode was released on November 4th, 2012.
The original format of the episodes consisted of Sly and his other guests building their homes to live in. However, they have also set missions to complete whenever new mods are installed. Some of these missions have been left incomplete for unknown reasons. Hostile mobs from mods installed by Steven were initially the main cause of conflict of the series, one particular highlight being the Camp Bears (Ep 37-40). Kevin (TomAnex) and Steven (SCMowns) were the first two guests to be upgraded to series regulars. ImmortalHD also became an unofficial series regular starting from Episode 171, until his departure from the series after Episode 300.
Some episodes in the second half of the series' first season, specifically the milestone episodes and the Pixelmon arc, have followed a semi-scripted format (bearing similarities to Seasons 3-5 of Sly's Minecraft Marriage).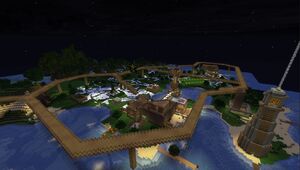 After the events of Episode 149, Steven transplanted the area of the town into a brand new world. It resulted in a misplacement of landmarks and 'water glitches' around the town boundaries. More 'town transplants' were made after Episode 215 and 304 when they updated to newer versions of Minecraft. Major mods such as Mo' Creatures and Twilight Forest were replaced by Custom NPCs (Ep. 151-347), DivineRPG (Ep. 150-215), Pixelmon (Ep. 216-304) and Aether (Ep. 305-312). Mo' Creatures (1.6.2) was brought back in Episode 313.
The series went on an indefinite hiatus after Episode 339 (released on November 26th 2013), possibly due to declining views and overall lack of interest from subscribers after the 300th episode.
The 340th episode of the series was finally released six months later on May 15th 2014, confirming that the series was not officially abandoned as Sly had not reached his 365 episode goal.
After another hiatus, Minecraft Daily returned once again on August 11, 2014 with Episode 348. This was the first episode since Sly's retirement from the Creatures. Due to the results of a poll for his subscribers, Sly announced that the rest of Season 1 would continue regularly without a final "milestone" episode. The last few episodes consisted of Sly's new main crew going into creative mode and building monuments and minigames all over the town whilst reminiscing about past events. Season 1 officially ended on August 28, 2014.
The Minecraft world where the series took place (including Guam) was later released as a survival map server for Sly's fans following the conclusion of the season.
Guests
| Name | Featured episodes | Area of residence |
| --- | --- | --- |
| | All | An overground cabin which is connected to a horse stable. His real house is a refurbished underground ravine, which can be accessed by a trapdoor in the cabin or even through a waterfall entrance at the bottom of the ocean. The ravine is connected to an extensive cave system, which has been used for mining and weapon testing. A hidden room with an Enchanting Table and a portal to 'The End' is located on his second floor. |
| Lucie (Lewshea) | Ep. 1-8, 16-20 | A two-story box house on the beach that was connected to Sly's cabin through an underground tunnel. It was the first house to be completed in the series. |
| Steven (SCMowns/ SdogSteven)  | Ep. 9-15, 21-32, 37-40, 45-81, 90-91, 102-142, 156-170, 185-206, 216-234, 247-300, 306-365 | A tall, complex, temple-like building with a rooftop caged arena on the lake near Sly and Lucie's house. It has been griefed by Kevin (Ep. 81), partially blown up by C4 explosives twice (Ep. 111, 136) and covered in lava twice (Ep. 280, 346). As of Ep. 281, his home is now encircled by an elaborate cobblestone tower. He was also responsible for the construction of the town lighthouse and the target-shaped meeting point of the town. |
| ImmortalHD | Ep. 10-15, 37-40, 78-81, 171-206, 216-225, 235-255, 266-295, 300 | A cave house camouflaged by a roof made of hedges and glass. A jungle tree was planted on top of the house, but has since been removed. The house has been burnt down and blown up many times, but was brought back each time after the world reverted. |
| Kevin (GoldenBlackHawk/ TomAnex) | Ep. 16-40, 42-81, 102-109, 121-130, 197-199, 201-206, 216-234, 247-255, 266-307, 321-326, 332-339 | Initially lived on a ship out in the ocean before it was burnt down by Sly (Ep. 20). Created a new double-layered house with a basement containing 'indentured servants', a Nether portal and a tunnel leading to bedrock. A 'victory road' flanked by flaming Netherrack blocks leads to this house. The house was griefed by Immortal before its restoration after Ep. 81. His shipwreck has been degraded from rocket launcher testing and is now close to land due to the first 'town transplant'. |
| Ashley (AshhBearr) | Ep. 21-32 | A simplistic, but uneven looking house by the lake where Steven's house is located. |
| Nova (UberHaxorNova) | Ep. 33-40, 78-81, 143-149 | A gigantic, lopsided wooden penis near Kevin's second house. He was forced to rebuild it in a later recording session after it was deleted when the world reverted after Ep. 81. |
| MichaelBahhh (Brien29) | Ep. 37-40, 121-130, 200, 313-316, 321-331 | Formerly "rented" a treehouse situated on the jungle tree above Immortal's cave house. This would later be wiped out when the world was reverted after Ep. 40. Upon his return, he made an elevated, ladder-covered house with a light blue wooden roof between Pbat's house and Nova's backyard sugar cane farm. |
| EatMyDiction1 | Ep. 53-55 | Started building the walls of a house outside the town boundaries, but left the recording because he was hammered. The house was taken down and replaced by a fenced training area prior to Ep. 216. |
| Sam (IAmSp00n) | Ep. 57-59 | Patched up a river with dirt to prepare for a new house. |
| ZeRoyalViking | Ep. 65-77, 107-109, 200 | A wooden skyscraper surrounded by cobblestone walls next to the lighthouse. He also built a highway system above the ground that extends around the whole town, making it easier to navigate. |
| ChimneySwift11 | Ep. 82-91 | A small cottage next to Pbat's house and near the base of Cupquake's hill. It bears a resemblance to a house he created in his series, 'The Minecraft Files'. |
| IHasCupquake | Ep. 82-91 | A replica of her parents' house on top of a small hill, overlooking other nearby houses. One side of the house was burnt down from a Frost attack (Ep. 171), but was partially rebuilt by Sly in Ep. 326 and then completed in Ep. 343. |
| PaperbatVG | Ep. 92-101 | Built a tiny upside-down house as a joke, but has not taken it down. Most of it was set ablaze in Ep. 214, but it is unknown how the fire started. |
| Rachelkip | Ep. 110-120 | A large roofless birchwood house near a swamp area and at the base of Cupquake's hill. The house was transported next to an icy river and then a mountain due to two 'town transplants'. |
| HuskyMUDKIPZ | Ep. 131-136 | A hollowed out area in the side of a small mountain near the original spawn and Diction's house. The trapdoor on top of the mountain is one of the main entrances. |
| Katukaz (omegadark14) | Ep. 131-136, 348-365 | A large house with hedges near the main lake and behind Ashley's house. It is now recognisable for being surrounded by a giant statue of his new Minecraft skin. |
| SkyDoesMinecraft | Ep. 137-142 | The base of an underwater house near Kevin's shipwreck that was bisected due to the first 'town transplant'. |
| Kootra | Ep. 143-149 | Originally started on a small wooden house far behind Pbat's house, but settled in a small cave area below Nova's sugar cane farm. The entrance was blown up by a landmine. |
| SSoHPKC | Ep. 143-149 | An underground bunker, directly next to Ashley's house and the stairs that head to Ze's highway. Dubbed as the "Fallout Shelter". |
| TheZombiUnicorn | Ep. 150-155, 207-215 | Moved in with Sly, taking up the role of 'lead interior decorator' for his house. |
| SoTotallyToby | Ep. 317-326 | A diminutive two-story birchwood house between Michael and Katukaz's houses and under a portion of Ze's highway. |
| DanzNewz | Ep. 332-339 | A "shit-shack" with a decorative floor and a glass ceiling east of Pbat's and Michael's house. |
| Remix10tails | Ep. 340-365 | A wooden castle tower north-east of Dan's house and across the river from Maurice's mini-fortress. |
| Burnalex | Ep. 340-365 | A "disco" house submerged in a large body of water close to Nova's sugar cane farm. A water pocket elevator separates the underwater portion from the wooden area above. |
Episodes
Mods
Due to the server of the series having recently been updated to Minecraft 1.6.2, a completely new modpack is being created by Steven. This modpack will be shown when it is posted on Steven's channel.
Significant Mods
Mo' Creatures
The Mo' Creatures mod for 1.4.2 was introduced at the beginning of the series and became the most prevalent mod in the series until its removal after Episode 149. Sly and Lucie came across a rare Pegasus roaming around their area in Episode 1. It was tamed and given the name, "sly is a butt" but this was later changed to "Glidey Jr Delux", a reference to SSoH's horse in The Ex-Communicated Series. In Episode 9, Glidey Jr Delux turned back into a regular horse. Sly also tamed four other horses and they were labeled: Jesus Christ, Not Jesus Chris, Metallica and Children's Advil. All the horses lived in a pit near Sly's cabin with a donkey named "Felix" and were later relocated to Sly's barn. A tamed goat named "Billy" also wandered around the town before being killed by Michael in Ep. 37. Nova tamed a horse in Episode 36, which was named "Anal Destroyer". Anal Destroyer was later kept in a small pen which Nova eventually built his house around. Throughout the series, bears, turtles and rabbits were also tamed by certain guests. One giant turtle got trapped within the opening of the Twilight portal and remained there for close to 100 episodes. After the mod was removed, all of the tamed animals disappeared excluding Anal Destroyer, who was reincarnated into an NPC character for the Custom NPCs mod.
The mod for Minecraft 1.6.2 was brought back in Episode 313. Sly and Steven discovered a new way to kill animals by hanging them with rope. Sly's new goal was simply to find and tame a Wyvern. Sly, Michael, Steven and Toby all obtained Wyvern Portal Staffs and explored the Wyvern World, but were unsuccessful in their ultimate mission. After Kevin joined the group, they each managed to obtain enough Wyvern eggs to distribute between each person. Steven had to retrieve another egg when his newly hatched baby dragon flew away after a Golem attack. After all the Wyverns were fully grown, the group decided to build an airport for them inside a mountain next to Rachel's house. Steven and Michael are currently the only group members that own two dragons each. Danz also received a Wyvern when he joined the series, which he keeps in his house.
Twilight Forest
The Twilight Forest mod was a major component of Minecraft Daily ever since its installation. Steven's opening of the Twilight portal in Episode 48 was considered to be the turning point of the series (making the transition to a survival-based adventure rather than slow-paced structure building). Together, Sly, Kevin and Steven explored a number of landmarks and discovered new bosses. Other guests such as Diction, Ze, ChimneySwift, Cupquake, Pbat, Rachelkip, Michael, HuskyMudkipz, Katukaz and Sky have also visited the forest. Sly and his guests have defeated three Twilight Liches (Ep. 62, 100 & 133), two Nagas (Ep. 101 & 134) and a Hydra (Ep. 113). Aside from the main goal of defeating bosses, Sly also set other goals, one being to provide every color of wool to a Giant Ram in the forest. Sly created a rule that teleportation would only be allowed in the Twilight Forest, and not the Overworld, due to the large size of the forest and more hazardous situations. As of Episode 150, this mod has been removed.
Rival Rebels
The Rival Rebels mod was introduced in Episode 102 and was typically used for griefing and clearing out obstacles. The mod added a variety of new weapons, explosives, flags and armor into the list of items. Sly, Kevin, Ze, Steven, Nova and Immortal have all experimented with the mod over the course of the series. Sly's main weapon was the Tesla coil gun (first used in Ep. 112), which kills enemies and destroys blocks instantaneously. The most destructive item, the nuclear bomb, was persistently mentioned by Steven. A grief battle that had been occurring between Sly and Steven culminated in the planting of 7 nukes under Steven's house as a form of retaliation.
For the 200th episode special, Sly collaborated with Steven to create a WTF Edition mini-movie that heavily utilized all the weapons in the mod. Sly, Steven, Immortal, Ze and Michael acted as Power Rangers and fought off endless hordes of vicious, overpowered monsters that waged war on the town of Guam. The episode ends with Sly sacrificing himself to nuke the floating enemy ship, but it is subsequently revealed that the entire episode was a dream sequence. In the normal timeline, Sly fulfilled Steven's wish of detonating a nuke, which was placed in Immortal's house and annihilated the town as a result (Ep. 206). As of Episode 216, this mod has been uninstalled.
Familiars
The Familiars mod was introduced in Episode 102 and was first used by Sly, Kevin and Steven in Episode 105. After creating a FamGuide, players are able to equip a small "familiar" that can be unlocked through XP points. There are many different familiars but each one gives the user a different type of enhanced skill or ability. Sly's most used familiars are the Ocelot, which gives him faster sprinting and the Rana, which gives higher jumping with no fall damage. From Episode 151 onwards, a FamGuide can be purchased for a block of dirt from a Custom NPC 'Oprah' found in an extension of Sly's horse stable.
DivineRPG
The DivineRPG mod was added in Episode 150 to replace the Twilight Forest mod (see above). The mod contains various new worlds, weapons, mobs and bosses. Sly's primary weapons for this mod were the Slime Sword and the Mythril Blade. Sly and Steven took down the Ender Dragon, after many attempts, in Episode 170. The Ender Dragon's Egg was placed in Sly's house as a trophy and stayed there until Ep. 305, when it was destroyed by Kevin offscreen. Sly and Immortal summoned the Watcher boss in the Nether and successfully defeated it in Episode 184. With the help of Immortal, Steven and Zombi, Sly defeated 4 Ancient Entities in the Overworld (Ep. 191, 195 & 214). Sly and his guests explored the Dravite Hills, the Azurite Forests, the Uvite Islands and the Mythril Mountains. He also discovered the snow dimension, Iceika. The portals to each Twilight dimension were located in Sly's underground house. As of Episode 216, this mod has been uninstalled.
Custom NPCs
The Custom NPCs mod was first used in Episode 151. Some of the main NPC characters added for the DivineRPG arc of the series include: Maurice (who organises quests and gives rewards), Starter Joe (an Enderman who provides the "starter pack") and Babooshka (who can teleport the player to a specific place in the town). New NPCs were added every Minecraft Daily session and could be seen building and walking around the town. In the 200th episode special, several overpowered NPC boss mobs were unleashed upon the town. From Episode 216 onwards, Starter Joe's original position was replaced by a Pokemon Center to accompany the Pixelmon mod. Other important NPCs such as Maurice and the Guam Guards lived in temporary exile outside the boundaries of the town on an abandoned beach. They were replaced by Professor Oak and Officer Jenny respectively for the Pixelmon arc of the series. Maurice made his return in Episode 313, and stood at the town centre before relocating to an eastbound mini-fortress after the hiatus. As of Episode 348, this mod has been uninstalled due to unknown problems during the second hiatus.
Pixelmon
The Pixelmon mod for 1.5.2 was added in Episode 216 to replace the DivineRPG mod (see above). Sly, Kevin, Steven and Immortal tested out this mod, which brings the world of Pokemon into Minecraft. Sly's starter Pokemon was a Squirtle named 'Shell Shocker', after the Blastoise in the first Pokemon Movie. Starter Pokemon were also given to Steven (Charmander), Immortal (Bulbasaur) and Kevin (Eevee). Sly's final Pokemon team consisted of: Dragonite, Mew, Charizard, Zapdos, Blastoise and Miltank. His Mew, Dragonite, Zapdos and Miltank were all Lvl. 100 primarily due to being force-fed Rare Candy. Steven, Kevin, and Immortal were also in possession of at least one Lvl. 100 Pokemon each. All four trainers owned gyms that were built around the town area. Immortal and Steven's sandstone gyms reside near Immortal's house, while Kevin's underground gym and Sly's underwater gym are located in an area far east from the town.
In Ep. 281, after Immortal covered Steven's house in lava, Steven and Kevin founded "Team Force Update", forming a rivalry against Sly and Immortal (Team BBF). Steven's revamped house, named the "TFU Tower", was their base of operations. Their main goals included trying to steal Sly's Pokemon (especially Mew) and murdering the innocent with bread. After an election process and a Pokemon battle, Immortal was officially titled the Mayor of Guam and Ultimate Pokemon Master. During the events leading up to Ep. 300, Sly joined TFU after much convincing, but had his Mew stolen afterwards.
The hour-long 300th episode special followed Sly and Immortal as they attempted to locate the hidden TFU fortress while fighting off monsters in their path. After finding the fortress and working their way up the building, they were confronted by Kevin, who challenged Immortal to a Pokemon battle. Sly discovered Steven at the top of the tower, keeping Mew prisoner in the form of a petrified stone statue. It is revealed that TFU planned to harvest Mew's energy to create Shadow Pokemon and take over Guam ("Operation Black Screen"). The ensuing final battle to decide Mew's ownership ended with a Sly victory. Steven refused to hand over Mew and rigged the TFU fortress to self-destruct instead. The episode ended with Immortal falling to his death and Sly retrieving his Mew statue from the ruins. It is revealed after the credits that a petrified Steven is still alive. In Kevin's POV of Minecraft Daily, it is revealed that he escaped the tower using a hidden teleporter and faked memory loss in the following recording session with Sly. He originally planned to revive Steven by using a Fossil Machine.
As of Episode 305, this mod has been uninstalled.
Aether
The Aether mod for 1.6.2 was added in Episode 305 to replace the Pixelmon mod (see above). The story from the Pixelmon mod continued as Kevin confirmed that he was the real mastermind of Team Force Update and was brainwashing Steven. Kevin built a crane outside his house which created a portal to the Aether. There, Sly and Kevin found Steven, and they began exploring dungeons in the new world. Sly and Steven managed to build a small house in the area while being relentlessly attacked by Zephyrs (referred to as "Clouds" by Sly). They also explored another dungeon after many attempts to enter. The mod was uninstalled as of Episode 313 due to too many bugs and glitches on the server.
Trivia
As of early 2014, the series has amassed over 46 million views on YouTube. The most popular episode is Episode 300, which currently has over 740k views.
The members of the Season 1 main crew: Steven (SCMowns2), Kevin (GoldenBlackHawk) and Aleks (ImmortalHD) all made appearances in over 100 episodes. Steven was the most frequent guest on the series with 273 total episodes featured.
Steven died the most out of any other participant on the series, totaling 174 deaths in Season 1.
Sly had the most recorded deaths in a single episode with 30 in Episode 77.
Sam (IAmSp00n) and Rachel are the only guests with no recorded deaths on the series
Steven owns the tallest house in the town. It is the only home that reaches a higher altitude than Ze's highway system. He also made the tallest structure; the town lighthouse.
Episode 300 was the longest episode in the series, clocking in at 1 hour and 36 seconds. The shortest episode was Episode 351, which ran for 9 minutes and 34 seconds.
The series has not always been daily. Episodes 42/43, 57/58, 102/103, 121/122, 143/144/145, 151/152, 156/157/158, 161/162/163, 197/198, 207/208/209, 216/217, 247/248, 266/267, 278/279 and 308/309 were uploaded on the same day to cover for missing episode(s) from the previous day. (Note: There were no catch-up episodes uploaded for the missing days, Aug 10th-13th, Aug 18th-25th, Aug 31st-Sep 10th, Sep 23rd, Oct 4th-23rd, Oct 29th-Nov 18th). Post-hiatus, Sly confirmed that the series would be uploaded regularly but no longer daily due to preparations for the final (365th) episode. This idea was later scrapped and episodes returned to their normal schedule.
Due to the temporary implementation of Sly's new "9000 likes system" on 14th June '13, many episodes were able to be uploaded on the same day. This new rule was put in place from Episodes 223 to 258.
The world has been reverted back to a previous save four times: after the WTF edition (Ep. 37-40), WTF edition v2.0 (Ep. 78-81), WTF edition mini-movie (Ep. 200) and Episode 206. This was because of destruction and damage to the town reaching unrepairable levels. Many homes were saved (and deleted) in the process.
The circular centre of the town has been occupied by structures such as: Super Toilet (Ep. 120-246) and a Groudon Statue (Ep. 247-299). Super Toilet was relocated to the top floor of Sly's overground cabin. The Groudon Statue was stolen by TFU and has not been recovered.
An hour's worth of Twilight Forest footage after Ep. 56 from Sly's perspective was unable to be uploaded. This lost footage can be viewed on both Kevin and Steven's channels. Additionally, Sly lost a small amount of footage after Ep. 91. The rest of this specific recording can be seen on Steven and Cupquake's channels.
Dexter did not appear as a guest on the series, but made a brief background cameo in Ep. 139.
Sly revealed that there were two original "milestone episode" concepts for the Season 1 finale that were scrapped due to time constraints (and the subscriber poll):
Bringing back a group of people who had previously been on the series and going on an expedition to the Nether to rescue Immortal/Aleks (who was "killed off" in Ep. 300).
A Minecraft Marriage crossover finale where the wives were kidnapped and taken to the Minecraft Daily world and the husbands (Kevin & Sly) had to rescue them.
Gallery
Sly's Thumbnails
Curent Creature Thumbnails
Also See
Skygrid - A spin off from the series featuring the Season 1 main crew (Sly, Kevin, Steven & Aleks)
Community content is available under
CC-BY-SA
unless otherwise noted.