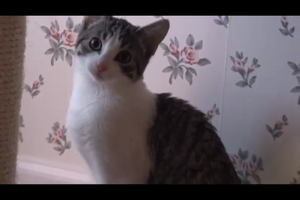 Moh-Ding is a cat that was originally adopted by James during the "pre-office" era of the Creatures.
Moh-Ding is the sister of Dan's cat Fisher, and the daughter of Jordan's Shepard and Tali.
Since coming under the care of James and Dan, Moh-Ding and Fisher have had a recorded playdate in which they playfully fought and frolicked around in the old Creature House. It has also been stated that Ein liked to play with Moh-Ding's toys and sleep in her bed, a habit which Nova does nothing about.
In the comments section of one of his own videos, Dan responded to a question on Moh-Ding's whereabouts by informing the fans that she had since been placed to live with another family.
Name
On an episode of Creature Talk, James says he picked the name because he was talking to Jordan about what they thought a stereotypical old person's name would be and they picked Moh-Ding.
Community content is available under
CC-BY-SA
unless otherwise noted.