Mr. Meowgi is Seamus' pet cat. She can be seen constantly in Seamus' vlogs.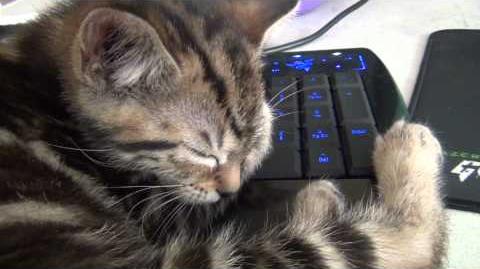 History
While visiting Ashh in Washington, Seamus got and took the cat home with him. She lives with Seamus and Ashh in their apartment.
Trivia
Her name is a reference to Mr. Miyagi from the 1984 film, The Karate Kid.
Although being a female cat, Mr. Meowgi has a male name. Seamus explains this as a "South Park reference" since Cartman calls his female cat Mr. Kitty.
She has been called lazy by Seamus since she tends to sleep on his keyboard a lot. He also claims that she "likes to fuck all [his] shit up.
She likes to lick Mountain Dew cans.
She also tends to "claw the shit" out of Seamus, prompting him to call her, jokingly, an "asshole".
She also likes to lick and sniff Seamus's L4D tank statue.
She likes to go up on Seamus' desk.She knows that she's not allowed up there.
One time when Seamus was playing Gears of War 3 with Clash, she opened up his Xbox disc holder prompting Seamus to jokingly put her up for adoption.
Ashh also made a video of how Meowgi is an ass, although with more damage. While Meowgi was playing on her cat tree, she tried to get her little ball that hung from her tree. Her nail got stuck and she panicked so Ashh tried to save her. It ended with Ashh getting over 10 scratches all over her arms.
She broke two of Seamus statues, Casual Goku and Harley Quinn.
In The Last Update, Seamus lost 2 cats trying to tame them, one he killed the other fell in lava. But on his 3rd try he finally tamed an orange and white cat and named him Mr. Meowgi after his real life cat. Meowgi then glitched and duplicated leaving 2 Mr. Meowgis for Seamus that actually have different needs, showing that Seamus could give one to Sly/Immortal.
Gallery