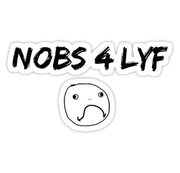 The Nobs
are
ImmortalHD
's fanbase. They are well known to most of the Critters. The Nobs have developed massive anger and badass-ness because of Aleks (ImmortalHD). There were few 'original' Nobs. The people called so are the Nobs that were there before Aleks got hacked. His fanbase has grown greatly since then and thousands more have joined the Nobs. Their slogan is "Nobs 4 Lyf". Nobs who will stand by Aleks forever are the real deal.
The Beginning
Edit
It all started when Aleks was live-streaming. We don't know what year this was, but it was some time before he got hacked. At the time his fans were called, well, fans or subscribers. While playing the game, he supposedly meant to say "Noob" but had accidently said "Nob". After that everyone in the chat section started calling themselves 'Nobs'. It stuck with the fanbase.
On September 11th, 2012, the Nobs 4 Lyf music video trailer was uploaded. Later on September 16th, 2012, the real music video, as well as the ITunes download, was uploaded. The music video was shot/filmed/edited by MitchGFilms. Closely followed by, was the Nobs 4 Lyf: Behind The Scenes video, uploaded on September 18th, 2012. The song was made by Brother Blake and it is unclear if Aleks wrote his own part.
As of 2015, the Nobs 4 Lyf music video is the most watched video on ImmortalHD's channel.
Nob is a slang term for a penis or sexual intercourse.
Community content is available under
CC-BY-SA
unless otherwise noted.