James "Nova" Wilson, Jr. is a Creature, mainly known for his rather inappropriate gags, according to him, "being a jerk," and for raging. He has, however, shown softer sides. He plays various games with almost every other Creature. Nova also has a second channel which is currently being used for specific games, mostly in the wrestling genre. He has the most subscribers of the group, with over 2 million as of August 8, 2013.
Bio
James previously lived with his mom and dogs in Lancaster, Pennsylvania before moving to the Creature House in Colorado with the other Creatures.
YouTube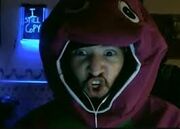 Nova started out making Machinima videos on his channel in 2008 along with some short Let's Play videos of various games. He went on a small hiatus (roughly 2 months) while waiting for a new computer. Upon his return, he began posting videos on Machinima Respawn, which at the time had just started. He soon started making commentaries, both for his channel and Machinima. Eventually, the focus of his channel changed from Machinima to commentaries on a whole
Creature
Not long after, he began doing a solo playthrough of Dead Rising 2, which turned into a multiplayer walkthrough featuring Sp00n. For the months to follow, he and Sp00n did various multiplayer series as well, including continuing with solo videos. He also began making multiplayer videos with other Machinima makers and commentators, some also known as the Creatures, and soon became an official Creature himself, and he became a regular guest on Creature Talk. James' videos used to have an intro, in which his creature (Pyjak from Mass Effect 2) walked across his YouTube name and then it pooped on it, but more recently, he has simply been using artwork or 'title cards' also called thumbnails. He is most notably known for Happy Wheels, and he has also voiced his own character in Happy Wheels, Pogostick Man.
Nova
also has a second channel, the main focus of which is for WWE '13 and other WWE games.
He hit 1,000,000 subscribers on July 30, 2012 at 8:57 PM EST.
He hit 2,000,000 subscribers on August 8, 2013 at 1:23 AM EST.
He is in the #102 on YouTube for total views, and is #1 in views overall in Makergen, his YouTube network.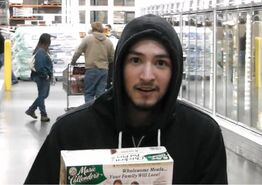 Community content is available under
CC-BY-SA
unless otherwise noted.