This page is only for PaperBat's history with the Creatures. For more infomation about PaperBat click here
Dion "Paperbat" Anderson (or Pbat or PaperbatVG) is a friend of the Creatures.
History
[
]
He mostly plays with Former-Creature Sly, and is also the reason that Sly met the Creatures. He has also played with a majority of the Creatures and been on two episodes of Creature Talk. At one point he was considered a creature.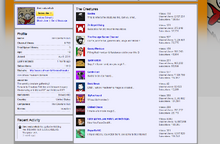 Trivia
[
]
There was a debate over whether Pbat is a Creature or not. He has played with Creatures, been on Creature Talk, and has been called a Creature. Pbat has also said that he is not a Creature and so do many other people.

In 2011 Pbat was on the list of Creatures on the Creature Hub YouTube, however it is unknown if it was a mistake or not.

He was the person who started the raging of the comment's section on Seamus's RP.
Links
[
]
References
[
]