This page is only for Pewdiepie's history with the Creatures. For more infomation about Pewdiepie click here
PewDiePie

PewDiePie with Nova
Name
Felix Kjellberg
Age
25
Birthdate
October 24th, 1989
Subscribers
43,000,000+
Aliases
Poods, Pewdie
Creature Connections
Nova
Felix Kjellberg, better known as PewDiePie is a friend of the Creatures. He is also been known to be a part of the fan war between himself, Nova, and Toby Turner. The only Creatures he recorded with currently is Nova and Sp00n. 
PewDiePie became known to most of the 
critters
 when some of his fans would soak Nova's channel saying that he copied PewDiePie. PewDiePie and Nova have addressed both of their fan bases via Twitter telling them that they are friends and to stop fighting about who's copying who. The Creatures themselves have made a 
video
, displaying the effect the flame war had on all affected parties. Nova, PewDiePie, Sp00n and Cry played Worm's Revolution on March, 2013 to try and make things better, and it seemed to have worked. After this, Nova and PewDiePie didn't play together again until September 2014, almost a year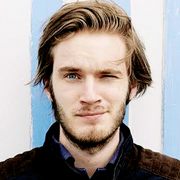 and a half later. Despite this, Sp00n and PewDiePie are good friends and still play with each other. Outside of YouTube, Nova and PewDiePie are friends, and have an equal respect for the others achievements. For example: Every million subscribers Nova gets, PewDiePie has tweeted at Nova congratulating him. In the same kind of instance, Nova tweeted at PewDiePie when he was named the most subscribed channel on YouTube.
In September 2014, more than a year after their Worms Revolution series, Nova, Markiplier, PewDiePie and CinnamonToastKen, played Sanic Ball together. Days later, they started a short 2 episode series on PewDie's channel of Speedrunners. After Speedrunners, they played Lethal League. It is unknown if there is more games that they played.
On May 19, 2015, Nova appeared on the Bro-Ken podcast.
Games with the Creatures
Edit
Note: The episode count is for Pewds' videos (if there is any)
| Series | Creatures with | Date | Number of eps |
| --- | --- | --- | --- |
| Worms Revolution  | Nova and Sp00n | Mar 3-14 2013 | 6 |
| Prop Hunt | Sp00n | Sep 9-11 2013 | 2 |
| Trouble in Terrorist Town | Sp00n | Sep 7-8 2013 | 2 |
| Sanic Ball | Nova | Sep 18th 2014 | 1 |
| Speedrunners | Nova | Sep 23rd-Oct 5th 2014 | 2 |
| Lethal League | Nova | Oct 7 2014 | 1 |
| Bro-K Cupid | Nova | May 19 2015-present | 1 |
PewDiePie and Nova are close friends, despite not seeing each other in person often.
Community content is available under
CC-BY-SA
unless otherwise noted.