Profit Lemon
is the money-making lemon of the
Creatures
.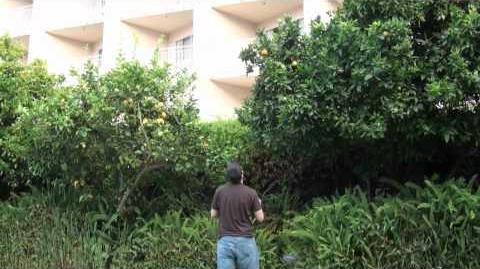 While at their hotel in San Diego for Comic-Con 2012,
Gassy
and
Seamus
decided to pick lemons in the hotel's courtyard. Gassy picked and used a "suspiciously big lemon" to knock down an orange. Unfortunately, the newly dubbed "Chernobyl Lemon" was lost in a bush under the orange tree. He then picked another lemon (Profit Lemon) and successfully used Profit Lemon to obtain the orange. The orange cracked and splattered once it hit the ground and Seamus then dubbed it "Smashy the Orange".
There is a Profit Lemon shirt on their spreadshirt.
Profit Lemon was the only new fruit to make it all the way due to Smashy the Orange being thrown back and Chernobyl Lemon being lost.
Profit Lemon has his own Twitter account @ProfitLemon

It's a mystery why Profit Lemon keeps tweeting since Gassy said in his Formspring account that the lemon has been dead for quite some time now.

Profit Lemon was briefly mentioned for the first time in over a year in Episode 111 of TreeTopia.
Community content is available under
CC-BY-SA
unless otherwise noted.