PuppyChef is a female bulldog and the newest edition to former Creature Sly's pack of dogs. She was arguably the best known Creature pet as she appeared in hub videos.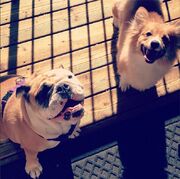 History
Sly announced PuppyChef's arrival with the "A New Challenger Approaches "PuppyChef"" video and announcements on Twitter and Facebook. Facebook was also the platform of a poll hosted by Sly in which he asked what he should name the bulldog he planned to get, the top result was PuppyPimp even though he hasn't used the name.
Sly mentioned on Twitter that he got PuppyChef to be used as a walking change bag and hides quarters and dimes in her wrinkles.
PuppyChef was the only dog living with Sly in his apartment, as he did not wish to take PuppyNurse and PuppyCop away from his parents who had grown attached to them. In addition, it was easier for Sly to take PuppyChef, as PuppyChef was not used to Sly's old house and would easily get used to the new apartment. Sly lived very close to his parents' house and constantly visited PuppyCop and PuppyNurse. However, PuppyChef moved with Sly to Colorado to live with him close to the Creature House.
PuppyChef made a very large appearence in Sly's Puppy Pool Party.
Chef also made a noteworthy appearance in the Secret Santa 8 Hour Stream, interacting with all of the present Creatures. This was also the first time she met Bailey.
During the Secret Santa 8 Hour Stream, PuppyChef slept with both of James' presents from Jordan, The Rock and John Cena. She seemed favorable of The Rock. She also is a certified lifeguard when she 'rescued' Jordan in the sea of bears.
When he left the office it was believed that she left the Creatures a present of her poop under the couch which Nova found during Creature Talk.
Videos
PuppyChef's Intro Video
http://www.youtube.com/watch?v=ESDBc8DajeQ
http://www.youtube.com/watch?v=SXyeYYjYVSQ
http://www.youtube.com/watch?v=UYGyjJ8NePw
http://www.youtube.com/watch?v=gPw6l1pEa9c
http://www.youtube.com/watch?v=yO5WaMC5H8g
http://www.youtube.com/watch?v=s7bEfdXDQ9A
http://www.youtube.com/watch?v=T-wz-kWvjnk
http://www.youtube.com/watch?v=g9rkeMNXF8A

Gallery