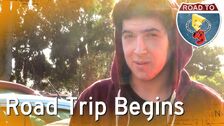 Road Trips are recorded trips that The Creatures have taken while going to events. They normally provide insight on their journey, and showcase a few roadside attractions along the way. The group has gone on four road trips so far: Road to E3 2014, The "Mystery" Road Trip, Road to E3 2015, and London.
Current Road Trips
Edit
Road to E3 2014
Edit
Jordan, Dan, James, and Aleks embarked on a road trip from San Francisco to Los Angeles to attend E3 2014. Along the way, they stopped at many strange roadside attractions/locations. Landmarks included: 
Neverland Ranch (could not visit due to time restraints)
"Mystery" Road Trip
Edit
In May 2015, James took Spencer and Intern Joe on a "secret" road trip. It was later revealed that the trio traveled through New York, Pennsylvania, and New Jersey (starting in Rochester, NY) to stop at some rather interesting attractions. Landmarks included:
Giant Megaphone (Removed from Area)
Road to E3 2015
Edit
The Creatures and employees working in the office (excluding Artist Joe, Kevin, and Seamus) embarks on another road trip to E3. This year, they will be traveling from Colorado to Los Angeles. Landmarks included:
London Trip
Edit
Community content is available under
CC-BY-SA
unless otherwise noted.