Sanity Not Included (sometimes called Sanity for short) is a Machinima show created by Lyle and former Creature Dex, two of the Creatures' oldest and best friends. It was originally uploaded on Machinima; however, from season 3 and on, it has been uploaded to Happy Hour. Many Creatures have helped create the show by voice acting or game recording. After season 3, Lyle left and Dex chose Immortal to become his new co-writer/main character.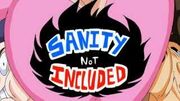 History
The series has always been known by the Creature fan base due to the friendship of Dex and Lyle and the Creatures. All of the Creatures (except Seamus) have since helped with the show. Lyle was a frequent guest on Creature Talk in 2010 and 2011. Lyle eventually left Sanity in April of 2013, and his replacement was announced to be ImmortalHD. Immortal became a Creature that July, making Sanity Not Included a "half Creature" production. Dex flew to Colorado in June of 2014 to appear in a lot of content on the Creature Hub, and was then announced as a Creature at RTX in July that year, making Sanity a production of two Creatures. Dex will possibly be moving to Colorado as well, making the production of the show easier.
Dex stated on a livestream (twitch.tv/dexterjmanning) that Sanity Not Included will not be getting a 6th season. This is due to Dex and Aleks asking Machinima for more money to do the 6th season and being declined. However, it was later comfirmed in a Happy Hour update, that Sanity would have a new animated episode, which was aired in July 2015. Disspite Dex leaving Machinima he was still in it alongside Alex.
Hosts
Dexter Manning (seasons 1-present)
Lyle McDouchebag (seasons 1-3)
ImmortalHD (seasons 4-present)
Creature Roles
| Creature | Role(s) | Seasons |
| --- | --- | --- |
| Dex | Co-creator, Filming, Voice Actor, Writer | All |
| Kootra | Filming, Voice Actor | 1, 2 |
| Sp00n | Voice Actor, Filming, Body Actor | 1, 2, 3, 4 |
| Danz | Body Actor, Filming | 2, 5 |
| Ze | Body Actor | 2 |
| Nova | Body Actor, Voice Actor, Filming | 2, 4 |
| Immortal | Writer, Voice actor | 4-present |
Seasons/Episodes Playlists
Season 5 Playlist (Unofficial)
Sanity Not Included - Bad Alien (Animated Special)
Triva
Community content is available under
CC-BY-SA
unless otherwise noted.