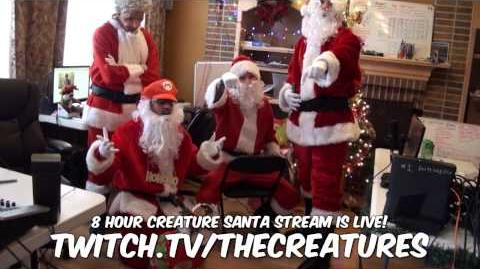 The Secret Santa 8-Hour Livestream was a stream held on the December 21st, 2013. Each Creature was a Secret Santa and had to buy gifts for the person they picked.
Games Played
Killing Floor
GTA Online (James Only)
Alone in the Dark (James Only)
Payday 2
Dragon Ball Z: Battle of Z Demo (James Only)
Secret Santa Gifts
Sly - Iron Man 3 Figure, Chicken Toy for Chef, and a ton of bluray discs. (Given by Dan)
Danz - Original Batman Movie, Adam West Batman Figure, Batman Pop Figure, Batman Shirt, a Batman Black and White Comic, and something not said. (Given by Sly)
James - The Rock and John Cena Plush Wrestlers (Given by Jordan)
Jordan - Several Halo Figures, Cup-Cat Shirt, Discovery Kids Exploration Laptop, Red Sox Baseball Hat, Peyton Manning Figure, and Great Battles Medieval Xbox 360 Game  (Given by Aleks)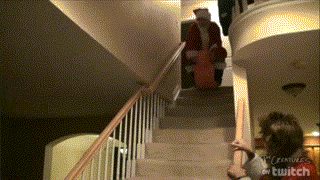 Seamus - Pink Pony, Glidey McHorse, Cat Helmet, Now Thats What I Call USA, Doll, Knee Pads, Pampers Diapers and Bear w/ Recorded Voice (Given by James)
Aleks - Russian Building Blocks and Russian Santa Figure (Given by Seamus)
Trivia
All 6 Creatures that participated dressed up as Santa Claus.
The chat and most of the group said Jordan was the worst secret Santa.

The chat also felt that Seamus was the best secret Santa.

Seamus' bear says "I'm Seamus' bear" and "I'm gonna suck your dick." It also plays One Direction.
The "Now That's What I Call USA" album was made in Mexico.
Jordan took Seamus' pink pony present and rode it down the stairs. Many people in the chat thought he would have died.

Aleks and Sly also rode the pony down the stairs, and were the only other Creatures to do it.

James molested Aleks with a dick cam.
Aleks and Sly both went over the $200 budget, while Jordan only spent about $50.
This is the second holiday-themed livestream done by the Creatures.
This was the last known recording in The Creature House, which also acted as a send off for the house.
Community content is available under
CC-BY-SA
unless otherwise noted.