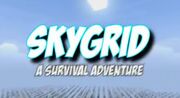 Skygrid was a Minecraft series with Sly, Immortal, Kevin, and Steven where they play SethBling's survival map SkyGrid. The individuals in the group have mentioned many times that they hate the map. Yet, they continue trying hard to gather materials with the constant fear of falling. The main term used in this series would be "Hashtag, For The Group" because of the constant grind in their game. 
History
It had started when Steven found the map "SkyGrid" and showed it to the others. They had all agreed to play the map together, and work as a team to qualify through the basic missions, such as building a farm and a house. First entering the game, the group of four had all been somewhat confused as to what to do. Soon enough, the gang got some strategies going, one of which included using water as elevators to go up and down the grid. The series ended when the group managed to kill the Ender Dragon by using snowballs, with Immortal finishing off the beast with a mere egg.
At the beginning they asked the fans to keep a death count to see how many times they die after the series, end as this map will cause a lot of deaths.
Total - 94
Thumbnails
Note: Steven's thumbnails are not displayed due to them being different for each episode.
Trivia
Steven (and Sly) die many times with useful items in his inventory. Because of this, the rest of the group have decided not to give Steven any of their important findings (diamond, iron, etc).
A running gag between the group is to let spawned mobs attack the other players, or fall off of the map.