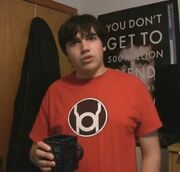 This page is only for Smarty's history with the Creatures. For more infomation about Smarty click here
John "Smarty" (TehSmarty) is a friend of the Creatures and a member of the Derp Crew. He has appeared on an episode of Creature Talk in 2011. In 2014 he joined the Derp Crew members to vs The Creatures.
He appeared on an early episode of Creature Talk in April of 2011. In 2014, Smarty and the Derp Crew (GaLm, Chilled and Ze) faced off against The Creatures (Kootra, Danz Newz, SSoH, and Spencer) in Sunset Overdrive. The event was organized by Chilled with agreement by everyone involved. Smarty states that he was cool with the Creatures and would like to do it again another time.
Appearances with the Creatures
Edit
Note: We are not counting Derp Crew videos with Ze and no other Creature.
| Series | Creature with | Date | Notes |
| --- | --- | --- | --- |
| Creature Talk | Kootra, Nova, Ze | 7 April 2011 | episode 11 on ITunes; Also with Chilled , Gassy and Pbat |
| Smarty's Creature Server Journey | Ze | Jun 11, 2011 | Also with Chilled (when he was a Creature) |
| Derps Against Humanity | Dexter Manning | Mar 31 2014 | episode 97-99; Dexter was guest on his show  |
| The Creatures and The Derp Crew Explore New York! | Ze, Kootra, Danz, Seamus | Oct 29, 2014 | Random Vlog Footage |
| The Creatures VS The Derp Crew in Sunset Overdrive! | Danz, Ze, Kootra, Seamus | Nov 1, 2014 | Smarty, GaLm, Chilled & Ze VS Kootra, Danz, Seamus & Spencer |
He is known for appearing in an early episode of Creature Talk (episode 11 on iTunes) and saying "Straight Up", which led to Pbat and the creatures making fun of him throughout the episode.
Community content is available under
CC-BY-SA
unless otherwise noted.