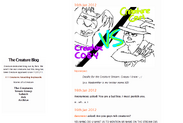 The Creature Blog was a Tumblr started by fans of The Creatures, that put up random "Creaturish" content. This included: Creature memes, pictures the Creatures tweeted out, or retweeted by the Creatures, Creature quotes, or other random stuff that relates to the Creatures.
The Creature blog was originally started in early 2011 under the name 'little-creature-things' which consisted of posting image macros with quotes and jokes said by the Creatures on them. Over the months as the fan community grew on Tumblr, the blog gained more popularity and changed its name to 'The-Creature-blog.' Eventually, Julio (the creator) appointed other Creature fans to become admins of the blog, allowing content to be posted more frequently. 
The Creatures started to discover the Tumblr community and The Creature Blog during the first Minecon in November 2011, and they tweeted out gifs that had been posted to the blog. Shortly after, a few Creatures tweeted out the link to the blog, stating that it was Creature approved. The blog gained a lot of popularity after that. Another instance of the blog gaining a lot of traffic was during the Creature's 24 Hour Mega Stream Spectacular when Sly began talking about them and told people to follow them. Eventually the dashes were dropped completely from the URL, becoming just 'thecreatureblog.' 
They were a well established fan blog on Tumblr (with Danz as one of the admins), and content was posted frequently. They were also allowed to post fanart on the main page of the orignal Creature Hub.
The Creature blog was closed on 10-10-2014. http://notthecreatureblog.tumblr.com/post/99688478402
Community content is available under
CC-BY-SA
unless otherwise noted.