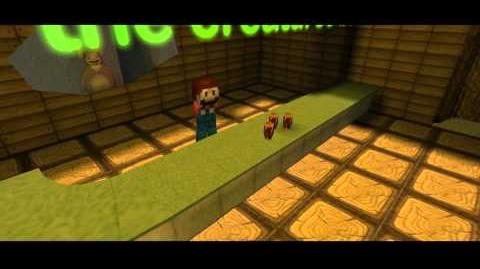 The Creatures Game
 is a mod that was in the process of being created for the game Star Wars Jedi Knight: Jedi Academy by a YouTuber called
sagaunleashed
. The alpha build is available 
here
.
The mod is in the same style as Minecraft, featuring the blocky environment, items, HUD and creepers (albeit humanoid fire creepers) of Minecraft as well as the character skins of the Creatures.
The Creatures are present in this game as NPCs to battle and playable characters, especially in the multiplayer version. Not only are Creatures featured in the mod but other members of the Creature network such as Pbat, ChimneySwift, ImmortalHD, Monica and Notch. ImmortalHD, Utorak007, EatMyDiction1, and former creature Chilled Chaos also do voice acting in the mod.
Locations in the mod are also based around Minecraft creations like the church built in the TreeHouse server in honor of Kootra's wedding. And of course the tree house it self.
The project has been considered dead ever since Gassy was voted from the group since he had been doing most of the voice work for the game. However, the official status of the game is still unknown.
Community content is available under
CC-BY-SA
unless otherwise noted.