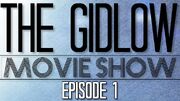 The Gidlow Movie Show is a movie podcast hosted by brothers Daniel and Thomas Gidlow.
History
Before moving to The Creature House, both Dan and his brother (Thomas Gidlow) had wanted to do a movie podcast together. They already had several Skype calls concerning their thoughts over new movies which further fueled this interest. On January 21st, 2013, the brothers released the first episode of this podcast. In the podcast, they discussed their interest in cinema, review new and older releases, and express their general thoughts on movies, actors, the film industry, and more.
The Gidlow Movie Show ran for three episodes, and then discontinued after episode 3 was posted on February 13th, 2013.
On January 20th, 2014, Thomas Gidlow sent out a tweet stating "we're baaaaack" along with a link to this Gidlow Movie Show Creature Wiki page.
They later returned in 2014. 5 more episodes have been made since the tweet, pushing it to 8 episodes in total. The last episode was published on the March 1st, 2014. Since then, there has been no talk about its status, but a return of the series in the future is likely.
Links