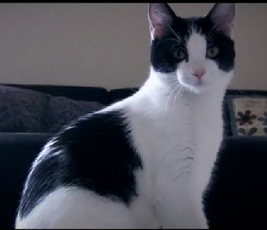 Wrex was a cat adopted by Kootra. He was known for his MLG Battlemaster fighting skills and his cuteness. He passed away because of a heart condition on July 12th, 2013.
 History
Kootra, in his past videos, mentioned his cat climbing up his leg or being annoying, but was never named. Later, he revealed Wrex, a black and white kitten. Multiple videos have been shown of Wrex, including one where he is attacking a stuffed animal panda bear. During some recording sessions, Wrex would painfully climbs up Kootra's leg and meow. However, he had a soft side, as he would lay on Kootra's lap when he recorded occasionally. During his teenage and adult years, he became close friends with Kitten Shepard and was known to play with him.
It was officially announced on July 12th, 2013 by Kootra that Wrex had passed away. He was only 2. The cause was a heart attack, most likely a result of a hidden heart condition that Wrex was born with.
 Trivia
Wrex's name was based off a Mass Effect character, like all of Kootra's cats. The character in the Mass Effect series is a krogan battlemaster, as well as Kootra's favorite character.
Kootra's first choice for a creature name in Spore was Wrexocat, after his cat. It was later replaced by Browntile

 Related Pages