Yo WTF is a series on Immortal's channel that highlights classic moments throughout the games he's played (much like Nova's Channel Classics).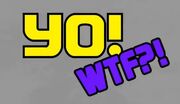 History
Yo WTF was started because Immortal wanted to highlight the funniest moments on his channel, for people who didn't watch all of his series. This started after Skylands episode 14 when he placed a crafting table on the only water source in a lake.
Games
Garry's Mod
Grand Theft Auto V: Online
Minecraft
BattleBlock Theater
Crysis 3
DayZ
Splinter Cell: Conviction
Ghost Recon: Future Soldier
Borderlands 2
Terraria
Call of Duty: Black Ops 2
Episodes
Trivia
From Episodes "Crafting Table Fail" to "A Nice Trip" 'Wtf' had a question mark after it, but from "No Trust" and on it did not.